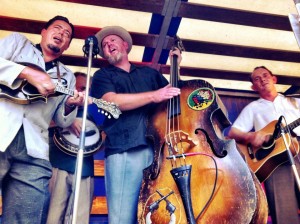 Summer break has only just been over, and already we've been pretty busy during the last weekend. On Friday we played at a festival featuring country, rockabilly and bluegrass music in The Hague at the Grote Markt, right in the city centre. Also performing were our friends from 'K.C. Credit and the Cashiers' and 'Stringcaster'. It was great to see those guys again, as well as catching up with our local friends that came to see us all play. Then on Saturday we did the so called 'Tour de Terras', where a number of bands play short sets at various stages in the city centre. That was quite hectic for the bands performing, as they all had to do 7 sets with only a few minutes in between to get to the next stage, do a short soundcheck and perform again. But for the audiences sitting at the different stages, the concept offers a great opportunity to see a whole bunch of acts within a relatively short timespan. And the organisers did a fine job putting the whole thing together and accomodating the artists, making sure that everyone would be well up to it all. Luckily the weather wasn't nearly as bad as expected, so a lot of folks showed up and fun was had by all. Then on Sunday we performed at a private party for folks who have been supporting us for quite a while now. A nice way to start our new season!
And this week we'll be traveling to Northern Ireland to see our friends at the Ulster American Folk Park in Omagh again and to perform at the Appalachian and Bluegrass Festival. Apart from the show at the marquee on Saturday night, just before Michael Cleveland and Flamekeeper (USA), we, along with many other bands from the US as well as from Europe, will be doing several sets on Friday, Saturday and Sunday, throughout the park.
And there will probably be a lot of old-time and bluegrass jamming going on, so if you're into all that and have the opportunity to go, it certainly is well worth the trouble. The Ulster American Folk Park itself already is well worth the effort, as it is a sort of permanent exhibition of how the folks lived during the days of the great migration to the US, and what their first settlements in the 'new world' looked like. So the perfect backdrop for some great music!
So, as ever, we're keeping ourselves busy and we certainly got some great things to look forward to. We'll keep you posted!
P.S. Thanks for sending your snapshots. They're always very welcome and we like to use them when we can. So keep 'em coming!