Bluegrass from the Netherlands?
Bluegrass. 1751. Being any of several American grasses of the Poa genus and having a bluish cast, earlier called Dutch grass (1671). (Source: 'I hear America talking; an illustrated history of American words and phrases' by Stuart Berg Flexner)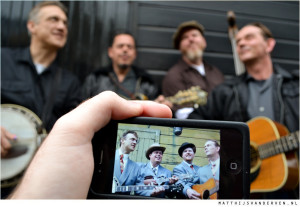 Hi folks! We are the Blue Grass Boogiemen and we've been playing traditional bluegrass professionally since 1990. Our show has proved to be very successful here in Europe. In Ireland we won the 'Waterford Crystal Bowl' for 'most popular band' at the Guinness International Bluegrass Festival, in Holland we won the 'Silver Fiddle Award' and the 'Gram Parsons Award'(eight times) both for best acoustic band, and beat Alison Krauss to the number one spot in the 'Strictly Country' charts. Also in America, where we've been touring several times, people are very enthusiastic about our music.
World Famous fiddler Byron Berline wrote: 'Your band was singled out as one of our 'don't miss', 'please have them back' and 'we love them' groups…' after we appeared at his international bluegrass festival in Guthrie, OK, for the first time. Since then we've played his festival many times. The Washington Post wrote: '…the Boogiemen mimicked American music icons with absolute accuracy and joy…' and 'Mandolinist Arnold Lasseur did Bill Monroe proud…' after we played in Arlington, VA.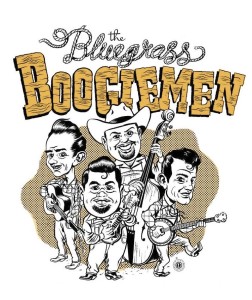 About our recorded work the Bluegrass Now magazine wrote: '…they have the tightest harmony of any band I've heard'. Bluegrass Unlimited magazine wrote: 'This is a highly entertaining band that comfortably handles a range of music with flair, taste and energy. Readers would be well advised to catch this band when they come through town. It should be a great show' and also 'Gosh, this is what the music world's been missing, isn't it?…When I first played this album, which is an immensely entertaining collection, I thought I was listening to some unusually talented country-bluegrass band from Ohio or Michigan or some such place.'
But no, we're from Holland alright. Holland, Europe that is! However we're willing to travel to where ever you'd want us to play. So make your event truly international, contact us and book '…one of the most hard-hitting, versatile and entertaining bands on any continent…' as Bluegrass Europe magazine put it.
The Daily Oklahoman
The State Newspaper Since 1907

Bluegrass date? Go Dutch


America's down-home music won't stay there

By Barbara Palmer
Staff Writer

GUTHRIE– Elvis led Dutch guitarist Robert Kanis to bluegrass and ultimately to the International Bluegrass Festival in Guthrie. "I grew up listening to Elvis Presley on the radio and then I discovered that Bill Monroe wrote 'Blue Moon of Kentucky'", said Kanis, a member of the band Blue Grass Boogiemen. "Bill Monroe rocks."

Eclectic

  The Blue Grass Boogiemen, a band from the Netherlands, stands out as one of the most eclectic at the festival. The band gleefully plays all over the musical map, mixing tunes by bluegrass legends Monroe and Jimmy Martin with vintage country standards by Hank Williams and George Jones

  Singing four-part harmony on the stage of the 1920's-era Scottish Rite Temple Auditorium, with three heads of shiny, slicked-back hair, three pairs of dark denim bib overalls and a straw cowboy hat between them, the Blue Grass Boogiemen seem eerily reminiscent of 1940's-era Grand Ole Opry performers. Then the light
catches the earring in Kanis' right ear, the band shifts into an up-tempo version of a Lefty Frizzell song and it's clear who they are: young Europeans utterly enamored of traditional American music.

  Band members honed their high lonesome sound in Utrecht, a town in the central Netherlands, where Bart van Strien, who alternates between five-string banjo, harmonica and fiddle, said their love for bluegrass made it easy for them to find each other.

Stomping and whistling

  "I used to tape bluegrass music from the radio," he said, and he's kept the first bluegrass tune he ever heard, 'Montgomery County Breakdown', in his repertoire. The band's straight-ahead rendition had the crowd in Guthrie clapping, stomping and
whistling for more.

Soulful twang

  As the band alternated between traditional bluegrass and a kind of up-tempo honky-tonk, burly mandolin player Arnold Lasseur's Dutch accent melted into a soulful twang in songs like Hylo Brown's 'Lost to a Stranger'.

  The band learns new songs by listening to bluegrass and country records — the older the better, Kanis said. The band released a single, Jimmy Martin's 'Hit Parade of Love' on a 45 rpm record, purely for nostalgia's sake.

The Boogiemen were making a return appearance at the International Bluegrass Festival. Following a 50-minute set Thursday afternoon, they spent more than an hour selling copies of the single and compact discs and signing autographs in the temple's marble lobby. "We love Guthrie. We came last year and it turned out so fine," said Kanis. This year "people are wearing our T-shirts and yelling our names.