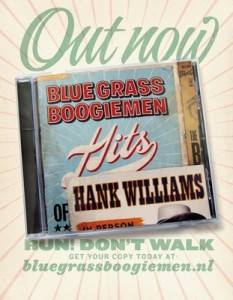 NEW CD OUT NOW:
'Hits of Hank Williams' – Blue Grass Boogiemen
This album is the last in a series of Dutch artists covering American countrymusic icons, initially put out by the Dutch 'Starsound' label (which no longer is in business; fortunately the CRS label was willing to release this one). A few years ago Starsound Records owner Ruud Pennings asked us to do a 'Hits of Hank Williams' cd for his project. Though at first we thought that an album featuring only somewhat more obscure numbers instead of hits of 'the Hillbilly Shakespeare' would suit us better, we simply just couldn't resist the offer. Hence often covered favorites as 'Jambalaya (on the bayou)' and 'Cold, cold heart' couldn't be left out (we already recorded 'Your cheatin' heart', 'Move it on over', 'A mansion on the hill' and 'I'm so lonesome I could cry' for previous albums), but that didn't matter to us at all; we're all huge Hank Williams fans and to us all of his songs are hits.
As a matter of fact, ever since we started playing together, Hank's songs have been an integral part of our repertoire. We've even done many Hank Williams tribute shows, playing his songs exclusively. And folks who know us, know that almost every after hours jamsession we're involved in, sooner or later evolves into a celebration of Hank's work. So, to say the least, we love his music, on and off stage, and we're convinced of the fact that the world can never have too many albums with Hank's songs, whether they're well-known hits or not.
Of course Hank Williams wasn't a bluegrass artist, but his songs are very suitable for and often covered in the genre. Notably 'Father of Bluegrass' Bill Monroe himself recorded some of Hank's songs (they even co-wrote one, entitled 'I'm blue, I'm lonesome') and many other bluegrass greats followed. But the music of Bill Monroe and that of Hank Williams have more in common. Both men were no strangers to that feeling called the blues and both men wrote and sang about it in their own uniquely intense and inimitable ways, resulting in what we think is some of the most passionate, heart-wrenching and soulful music ever recorded. Indeed, 'blue and lonesome'.
Yet another similartity between the music of Bill Monroe, bluegrass, and the music of Hank Williams is that both have stood the test of time. This is proven by the the fact that nowadays their appeal still seems to be as big as ever, but to an ever growing audience, more diverse than ever before. And both Williams and Monroe, as they have done since the beginning of their careers, continue to inspire artists all over this world even after they themselves have left it years ago (Hank in 1953, Bill in 1996).
Needless to say, to us it was quite a challenge to record this album. To interpret these classics and do them justice by trying to make them our own, yet fully retain the respect and traditions of the music we love, was not, and in our opinion wasn't supposed to be, easy. But we think we did the job and hope that you'll agree.
So making this album truly was a labor of love. But how did we go about it? Well, first we decided to only use songs Hank actually wrote, then everyone of us suggested a few and together we made a selection. When we started arranging them we obviously tried to convert most of the songs into bluegrass. A few others though, we tried to keep somewhat closer to the original. Some we changed around altogether. But, with the exception of 'Let's turn back the years' (which is rewritten into a tribute to Hank) and 'Cajun baby' (which Hank did write, but as far as we know never actually recorded) we always tried to stay true to what we think was the essence; the meaning of the words and the overall feeling of the songs.
It became quite an eclectic mix with styles ranging from bluegrass to country to rockabilly to cajun. Our friends Joost and Mark of the Dutch cajun band 'Captain Gumbo' helped us out to add some cajun-flavor to 'Cajun baby' and 'Jambalaya (on the bayou)' with their 'tit fer and French accordion, but the rest of the songs are all played with the traditional bluegrass line up of banjo, fiddle, guitar, mandolin, upright bass and some dobro here and there. It just goes to show how well Hank's songs work in some of the different types of music we enjoy, and enjoy to play.
We truly hope you too will enjoy our versions of these 'Hits of Hank Williams'.