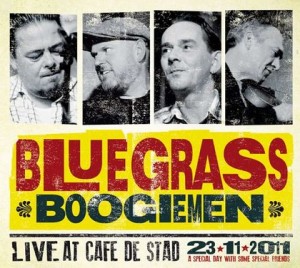 NEW CD OUT NOW
Blue Grass Boogiemen – 'Live at Café De Stad'
Hi Folks! This is our latest CD. We recorded it live at Café De Stad, in Utrecht, Holland last October, to celebrate the 12,5 year anniversary of the cafe.
Apart from our usual line-up and repertoire of classic bluegrass tunes, this album also features Maurits Westerik (GEM), Spijk Groenendijk and Jolanda Peters (The Faraways) as guest singers and Joost van Es on fiddle. 
It's a limited edition, so don't wait, don't hesitate, get your copy now before it's too late!