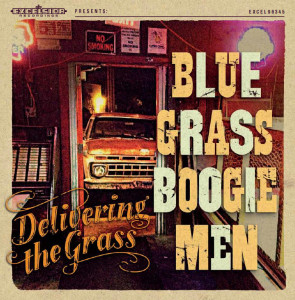 Persbericht Excelsior Recordings
Deliverin' the grass – Blue Grass Boogiemen
'Deliverin' the grass' is het vierde album van de Blue Grass Boogiemen. Deliverin' the grass is tevens hetgeen de Blue Grass Boogiemen al jaren doen, zowel hier in Nederland als in de rest van Europa en in de VS. Van Paradiso tot 's werelds meest beroemde bluegrassclub de Station Inn in Nashville, Tennessee; van de Rodeo Bar in New York tot de Continental Club in 'live music capitol of the world' Austin, Texas; ze traden er op. Al ruim 22 jaar staan de Blue Grass Boogiemen voor het beste wat Nederland qua authentieke rootsmuziek te bieden heeft.
Dit nieuwe album, wat wordt uitgebracht door Excelsior Recordings, is het eerste album wat geproduceerd werd in samenwerking met Frans Hagenaars. Hun gezamenlijke kennis en expertise heeft geleid tot een eclectisch album met voornamelijk eigen werk, aangevuld met een paar traditionals en nummers uit het bluegrass repertoire. Chris Hillman (bekend van o.a. The Byrds en de Flying Burrito Brothers) schreef het volgende over het album: I RARELY ENDORSE ANYTHING THESE DAYS, AND IF I DO IT HAS TO BE REALLY INTERESTING, REALLY GOOD AND HONEST AND UNIQUE. THIS RECORD HAS ALL THE RIGHT INGREDIENTS. SOLID PLAYING AND SINGING AND A GREAT CHOICE OF MATERIAL. HEARING THESE BOYS KICK OFF THE JIMMY MARTIN CLASSIC "YOU DON'T KNOW MY MIND" IS FANTASTIC, BECAUSE THEY KNOW THIS MUSIC, AND YOU DON'T HAVE TO BE FROM KENTUCKY OR NASHVILLE TO KNOW THIS MUSIC, TO FEEL AND UNDERSTAND THE SOUL OF BLUEGRASS. THAT'S WHAT IT'S ALL ABOUT.
THE BOOGIEMEN SWING, AND THEY SWING HARD AND FAST.
CHRIS HILLMAN
JULY 2013
De nummers behandelen de onderwerpen van het leven, waar iedereen mee te maken heeft. Zoals hartzeer, de eenzaamheid, wanhoop en de dood. Dit alles, op een klassieke manier beschreven en in authentieke bluegrass (met hier en daar een uitstapje) gegoten, onderstreept maar weer eens dat ook deze vorm van de blues haar tijdloosheid allang heeft bewezen. En de hernieuwde opleving van dit genre in Nederland, is ook niet in de laatste plaats te danken aan deze heren. 'De Boogiemen houden roots en traditie actueel met een ongekende overdosis energie' werd ooit over hen geschreven. 'Deliverin' the grass'; een beter bewijs hadden ze niet kunnen leveren.
=> HERE's how to grow the Blue Grass seeds!! <=